A year ago today, Google ended its foray into the commercial smart eye wear market with the discontinuation of Google Glass. Whether there ever was a market to begin with for such devices is up for debate, but there's no doubt that many interested parties—developers, entrepreneurs, and even competitors—were counting on Google to bolster the fledgling category of consumer electronics. And then, it was all gone in a flash.
Well, kinda-sorta. Apparently, Glass is still alive and well inside Google's hallowed halls—albeit, out of the public's grasp. At any rate, this was not the first time the search giant-cum-conglomerate has abandoned seemingly promising technologies. In fact, Glass is just the latest casualty in long list of Google-inflicted infanticides. The following are 8 Google offerings that ultimately didn't make the cut.
8 . Google Desktop
You may remember the handy clock and weather monitor, and probably not much else. Unfortunately, Google Desktop's more powerful features like desktop search of files and emails didn't catch on, and the offering was discontinued in September 2011.
7. Google Reader
Google Reader was a widely-used RSS feed management tool that was retired July 1st, 2013, to the chagrin of many loyal followers. It certainly wasn't the only tool for aggregating/managing RSS feeds, but at the time it was arguably the best.
6. Sparrow
Sparrow was a much-loved iOS/OSX email client that was acquired by Google and subsequently shut down. With its Twitter client-like functionality and streamlined UI, the offering was an App store favorite until it was pulled in February of 2015.
5. Google Notebook
Okay, so your OS X's Notes app fills this void quiet nicely. All the same, Google Notebook—now absorbed into Google Docs—was a nifty tool for saving and sharing content like research notes and other miscellania.
4. Bump
Bump was a social sharing app that allowed files and information to be shared through the literal bumping of devices (think "bump-and-pay"). It would have been interesting to see what Google eventually did with the technology; alas, it was pulled from the App Store and Google Play shortly after being acquired.
3. Aardvark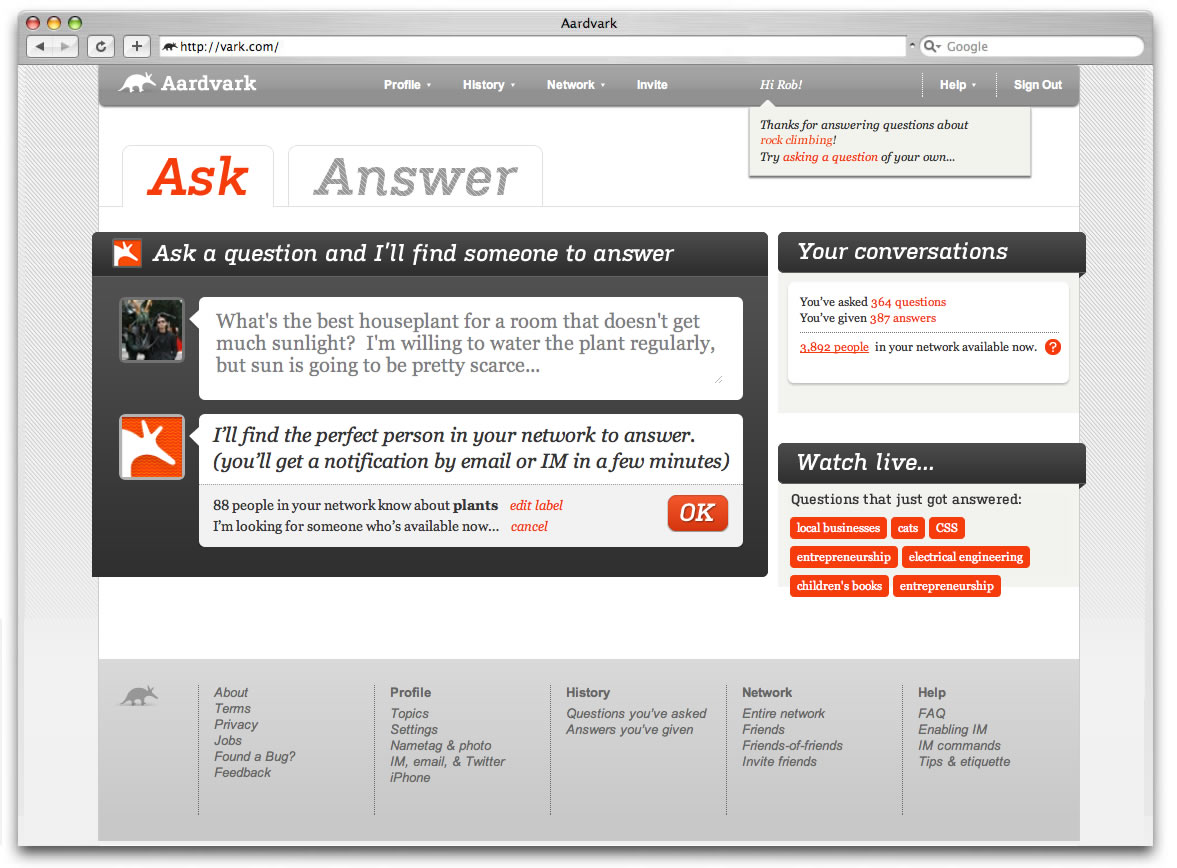 Dubbed a "social search engine," Aardvark was a social search and question-and-answer service that allowed users to ask questions and receive answers from their extended network. Founded by a group of ex-Google employees, the company was acquired by Google acquired for $50 million in 2010. A year later it was axed on Sept. 2, 2011.
2. Google Buzz
Ah, what this could of been. Google's second foray into social networking, Buzz couldn't quite steal the thunder from Facebook and Twitter. Much of the backlash against the offering was due to its controversial opt-out model for Gmail users. Gmail is of course still in full force, but Google Buzz has long since vanished.
1. Google Wave
Despite promising to reinvent email by fusing it with power of social, Google Wave failed to capture the growing audience of social media enthusiasts flocking to sites like Facebook, LinkedIn, and Twitter. Part email and part Twitter/instant messaging, the offering was discontinued in 2010.
These certainly won't be the last offerings to be cut from the Google product line—in fact, over the years Google has acquired more than 180 different companies, a fraction of which are currently still around. And of course, you can expect Google Labs to continue its tradition of experimentation, even if high flying projects like Google Glass occasionally and unexpectedly get 86'd.
Source(s):