It's a common predicament that befalls the most meticulous of planners: a smartphone or gadget running out of battery power when needed the most. Whether it's during transit or on an extended outing, being away from a wall outlet these days no longer needs to feel like your device is running on borrowed time.
From external battery packs to chargers powered by kinetic motion, these 7 ways to power and charge your devices are effective solutions when plugging in via a standard wall outlet is not an option.
1. In-seat Power
Regardless of what type of transportation—be it plane, train or bus—in-seat power is often available on the vehicle or aircraft. For extended flight or transit times, the aircraft or bus may provide power ports to one's seat, with some even incorporating direct USB charging ports. Others may have outlets available at various key locations down the aisle. Check with your airline, train or bus company website prior to departure to find out the specifics. Here's a nifty list of airlines that offer in-seat power.
One detail to keep in mind is that while in-seat power will in most cases sufficiently charge a small device, powering or charging a laptop is another story. Most airplane power systems are capped at around 75 Watts, so charging a device via your laptop's USB port (while the laptop itself is plugged into an in-seat power outlet) is usually not possible unless otherwise noted.
2. IOGear GMP10K Mobile Power Station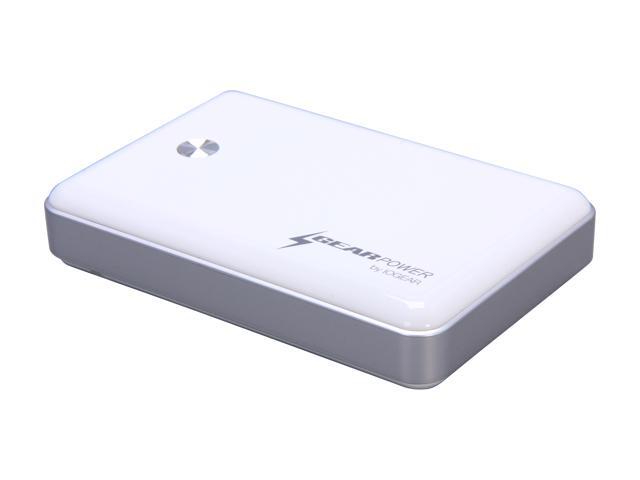 IOGear produces arguably the best portable power units on the market, and the latest addition to their GearPower portable battery line, the GMP10K, lives up to the brand's reputation. The unit functions as a battery extender as well as a charger, and can charge two devices at the same time via dual USB charging ports. Charging a device with the GMP10K takes about two hours, and can charge a smartphone five to six times.
3. PortoPow AA-Battery Powered USB Charger
The PortoPow USB charger is a great option for powering and charging devices in scenarios where the only electrical power are traditional, disposable batteries, or when charging via a pre-charged external battery pack is not an option (e.g., you forgot to charge it before hitting the road or don't have enough time to do so). The PortoPow charger takes three Double-A batteries to charge an average smartphone about once, and comes with a built-in torch and battery meter.
4. Solio Bolt Solar Charger
One can find many inexpensive solar charging kits on the market today of varying degrees of quality—Solio's Bolt is one of the higher quality specimens in the lot, and incorporates some nifty design elements that make it stand out from other similar units. The kit consists of two attached, rotating solar panels and an integrated, on-board battery. The bolt charges devices at the same rate as a standard wall outlet, with battery capacity for at least two full smartphone charges. To fully charge the on-board battery, however, the solar panels must be exposed to direct sunlight for at least eight hours. That being said, the unit can also be pre-charged ahead of time—providing a dual power backup solution of sorts.
5. The Pocket Socket 2 Portable Crank Charger
In situations where portable charging via electrical outlet isn't possible—such as camping in the wilderness or when in remote environments—this portable crank charger may be your best option. The K-Tor Pocket Socket 2 is a 10-watt generator that produces 120 Volts by rotating the crank manually. Because the pocket socket charges devices at the same rate as plugging the device into a wall outlet, it's not exactly a good solution for prolonged device use. But for reviving a smartphone or device to make an important call or send an email, this may be the ultimate lifesaver.
6. The Orange Power Pump
This contraption utilizes a standard airbed foot pump to generate power for charging device, making it a nifty solution for festivals, camping, and other outdoor scenarios.
7. InStep Nanopower
Get a little bit more out of your workout with this in-shoe charging system that (re)powers devices through walking or running.
Honorable Mention: The SpudCharger
Okay, so 110 pounds of potatoes is not exactly a portable solution. But just in case you're on the road and—say, broken down in the middle of the Idaho country side, this might do the trick.
Source(s):